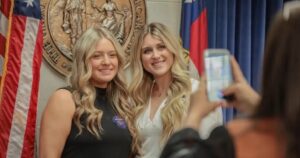 (Countdown until event begins.)
NC Values has spearheaded the effort this year to pass a bill protecting women from unfair competition in sports against biological trans-identifying males. Female athlete and activist Riley Gaines had a tremendous impact on our success, and we wanted to invite you to hear her compelling story and about how God is protecting His design for male and female bodies in North Carolina.
Riley Gaines is a recent graduate from the University of Kentucky where she was a 12x All-American swimmer. This past year, Riley competed and tied with transgender swimmer Lia Thomas at their NCAA Championships. Since directly experiencing injustice of allowing men in women's sports, Riley has been outspoken on why this issue is blatantly unfair and harmful to females in many ways.
We invite you to join Riley Gaines and your friends at NC Values for the Celebration of Carolina Values event on October 3rd, 2023, to see and hear from this remarkable woman, and to celebrate our organization's hard work defending Carolina values in our state. To learn more about acquiring a ticket, email caroline@guidedimpact.co.
Make sure to email us soon, as the room is quickly filling up!
We hope you consider marking the date on your calendar, and joining us on October 3rd.
Finally, if you support the work we're doing making a pro-values impact across public institutions, would you consider making a needed one-time or monthly donation towards our work in North Carolina?
Sincerely,
Tami & Team,
NC Values